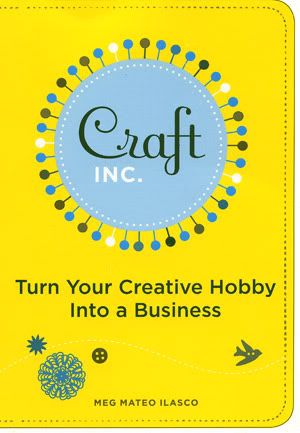 If you have not read my blog before I do not have a business, but I am interested in starting one. I guess you could say it is my dream. I have no idea what I want to make or even what medium I want to do it in. I read this book for inspiration more than anything. It has a lot of inspirational stories of business owners telling how they got to the successful point where they are today.
Since I have never been good at telling what a book is about, here's what Amazon.com has to say:
Craft, Inc. is the hipster business primer for entrepreneurial crafters to turn what they do for fun into what they do for money. Pro crafter Meg Mateo Ilasco offers a step-by-step guide to everything from developing products and namingthe company to writing a business plan, applying for licenses, and paying taxes. Chapters on sales, marketing, trade shows, and publicity round out the mix. Plus, in-depth interviews with such craft luminaries as Jonathan Adler, Lotta Jansdotter, Denyse Schmidt, and Jill Bliss provide inspiration and practical advice. Accessible, informative, and more than a little spunky, Craft, Inc. paves the way for today's creative minds to become tomorrow's trendsetters.

About the Author
Meg Mateo Ilasco is a designer, writer, and illustrator based in the San Francisco Bay Area. She was in grad school when she started designing wedding invitations for extra money, but the demand for her distinctive designs was so great that she eventually made the business full-time. Her company then expanded into stationery and accessories, and was featured on NBC's Today and in publications such as The Knot and Islands: Weddings and Honeymoons. She has since sold that business and is launching an eponymous housewares and gift company, Mateo Ilasco (www.mateoilasco.com). Meg is the author of You Can Wear It Again and The Space Planner, both published by Chronicle Books."
I really recommend this book. Even if you don't know what kind of craft business you want to start, it has information you can use. It tells you all the steps into going into business for yourself, so you know what's coming. I read it in about 3 days, and I haven't done that with a book in forever!
The author of this book also collaborated with another author in "Creative, Inc." Has anyone read that one? I was thinking about buying it and reading it, too. It seems like it might be similar to this one.