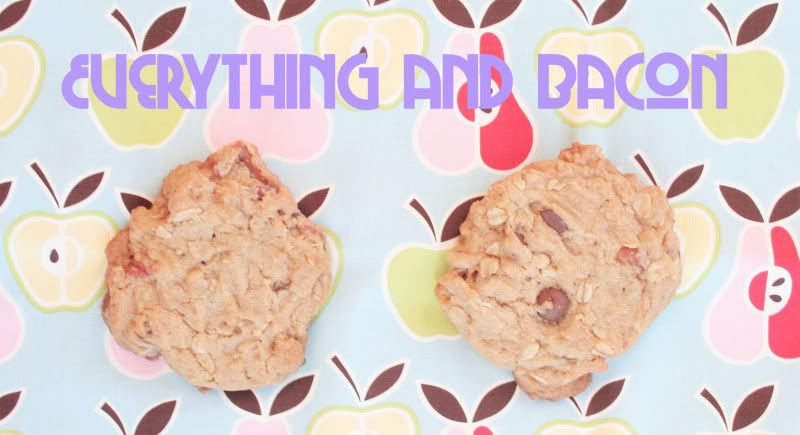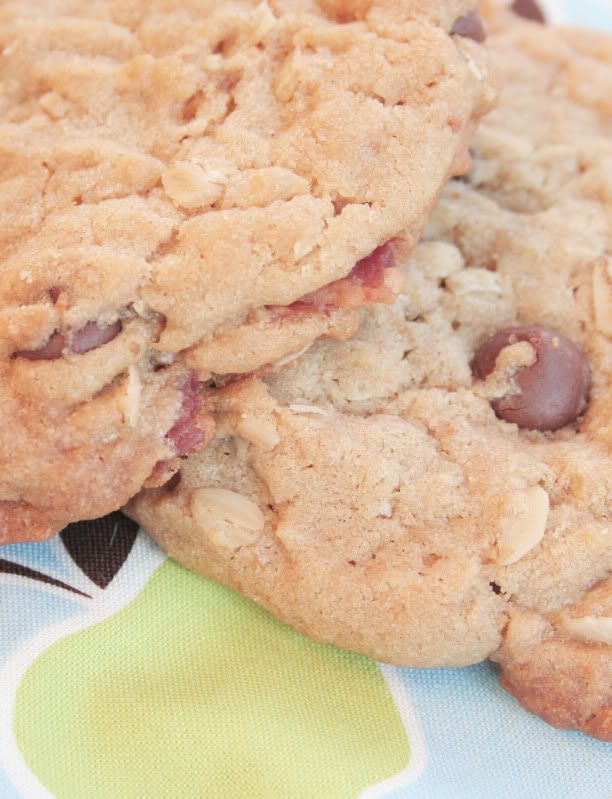 I made these beauties the other day... As in 3 days ago. There were 24 cookies, my husband ate one, and I had the rest. There were only two cookies left when I took these photos! Whoops! That is how good they are! This is my favorite cookie recipe in the whole entire world. Its such a good mix of sweet and salty, and... well... meat. The good thing about this is that most of the things will already be in your cupboard!
The Recipe
4 Strips of Bacon, cooked, cooled, and pulled into dime sized pieces
1 Stick of Butter
1/2 c. Peanut Butter (or three big spoonfuls which is how I measure!)
1/2 c. Packed Brown Sugar
1/2 c. Sugar
1/2 tsp. Baking Soda
1/2 tsp. Salt
1 tsp. Vanilla
1 Egg
1 c. Flour
1/2 c. Oatmeal
1/2 c. Chocolate Chips (I usually double this!)
1. Cook your bacon in a skillet on medium heat until done. Set aside on a paper towel to cool.
2. Preheat oven to 350 degrees. Soften the butter however you choose. I put it on a small plate for 30 secs in the microwave. Mix the butter and peanut butter together in a medium or large mixing bowl. Next add the brown sugar and sugar and mix everything all together. Stir in baking soda, salt, and vanilla and mix. Beat in egg. Add the flour and mix, then add your oatmeal and chocolate chips and mix.
3. Pull bacon apart in dime size bits then add to your dough and mix together.
4. Grease a cookie sheet and place small spoon fulls on it and smash them down. Make sure there is enough room to let the cookie grow! (although, I have made them where the whole pan turns into one big cookie, and it is still really good!)
5. Bake in the oven for 11 minutes or until brown. When they're done, let them cool for 15 minutes, then eat!!!
Well, there you have it. Just in time to make for your Valentine!!! Enjoy!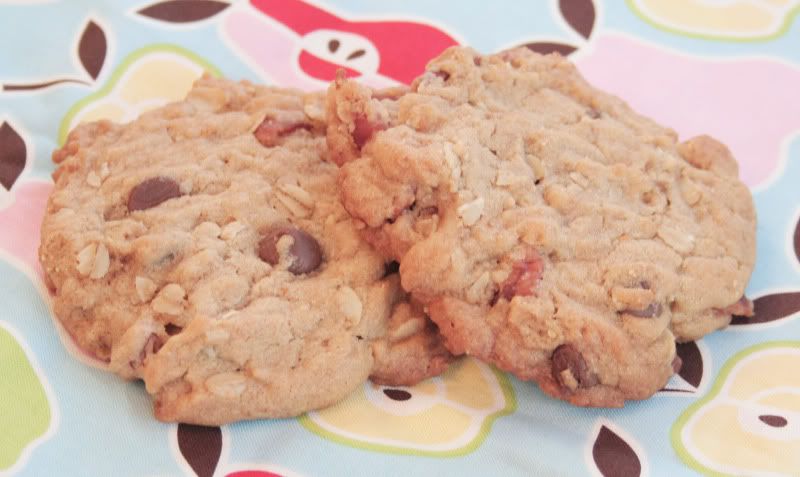 This recipe makes enough cookies to fill two cookie sheets. If you fill one, you can stick the dough in the refrigerator for another day! Just let it thaw a little before you start putting the cookies on the pan!